(CNN) — Visitors to a hot spring in central Japan will soon be able to snack on $460 grapes, or rather, grape.
That's after the manager of a chain of hot spring hotels in Ishikawa Prefecture, on the northern coast of the main Honshu island, became the winning bidder for a bunch of Ruby Roman grapes at an auction in Kanazawa on Tuesday. Takashi Hosokawa will pay 1.2 million yen, or around $11,000, for the 24 plump, deep red grapes prized for their juiciness, high sugar content and low acidity. It's the most expensive bunch since the breed came to market 12 years ago, the auctioneers said.
"We offered 1.2 million yen to mark the 12 years and to celebrate Reiwa's first auction," Hosokawa told reporters, referring to the country's new era,
which began in May with the coronation of Emperor Naruhito
. "We would like to convey to our customers our exhilaration when we held the (box of) grapes."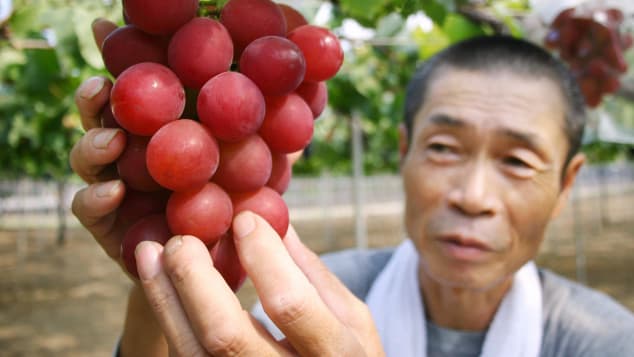 Ruby Roman grapes, grown in central Japan, are among the most expensive in the world, prized for their sweetness and low acidity. STR/AFP/AFP/Getty Images
https://www.cnn.com/travel/article/j...hnk/index.html