Retail sources confirm tweaked hardware's planned launch date to Ars.
By Kyle Orland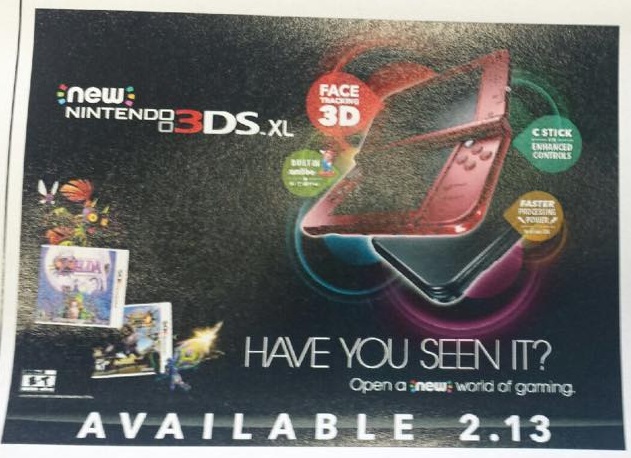 A photo of the promotional poster that Gamestop will be using to sell the new 3DS starting today, according to our source.
Ars Technica
Sources inside Gamestop have confirmed to Ars Technica that the revamped "new Nintendo 3DS" hardware will be available in US stores on February 13
th
and that the retailer will begin taking pre-orders for the unit today.
The image above, sent to us by an anonymous source at Gamestop, confirms rumors
reported
elsewhere
that the tweak to the existing 3DS line will finally be coming to the US today. The Gamestop poster doesn't include a price for the system, but our source also confirms that the retailer will be giving $75 and $100 respectively for customers that trade in an original 3DS or 3DS XL toward the new system. Another source at Gamestop told Ars that the retailer will begin taking pre-orders on the unit starting today.
First announced
back in August
ahead of its eventual October release in Japan, the confusingly named "new Nintendo 3DS" plays all existing 3DS games and will also support games that make fuller use of its slightly improved processing power, such as a port of Wii's
Xenoblade Chronicles
.
The tweaked system sports an additional analog nub on the upper right corner—for use in games such as
Super Smash Bros.
and
Monster Hunter 4 Ultimate
— two additional shoulder buttons, and a head-tracking feature that adjusts the glasses-free 3D effects for a variety of viewing positions.
Interestingly, the retail poster provided by our source only mentions the larger "XL" version of the new hardware, comparable to
the existing 3DS XL
, and not the more portable, standard size. This perhaps isn't surprising, as there have been signs in recent days that the smaller version of the original 3DS
is being phased out of US retail chains
in favor of
the cheaper, non-folding 2DS
and the XL. The larger "new 3DS XL" unit does not support the smaller version's interchangeable face plates, which have become
a collectible phenomenon in Japan
, where the 2DS is not available. The Gamestop poster also shows the system in red and black, eschewing the white and metallic blue options available in Japan and Australia.
Nintendo has announced it will be broadcasting
a Nintendo Direct video press release
at 9 A.M. Eastern Time Wednesday morning, which seems a likely time for the official announcement of the US release date.
We'll let you know if and when the information here is officially confirmed by Nintendo.