Activision has disabled the feature on Call of Duty: Advanced Warfare.
By Kyle Orland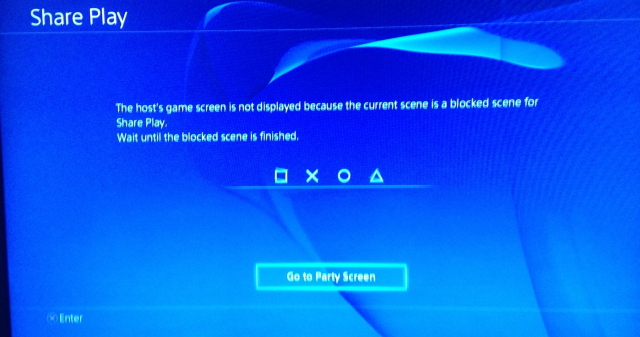 After reports that the new Share Play feature would work with all PS4 games, Sony has clarified that game developers can restrict the feature, as Activision has done in
Call of Duty: Advanced Warfare
.
"Share Play is a system level feature enabled by System Software Update 2.00, making it available for all PS4 titles," a Sony representative said in a statement provided to Ars. "However the option is available to developers to disable the feature according to what they feel will best benefit the consumer experience."
The new statement contradicts
an FAQ published by Gamespot last week
, which cited a Sony representative as saying that Share Play would work across all PS4 games, with no option for publishers or developers to block support. However, Sony has always maintained that developers would be able to censor certain "spoiler" scenes during Share Play. It appears that Activision has used this bit of wiggle room to block every single scene in
Call of Duty: Advanced Warfare
from being shared.
Sony said that it does not currently maintain a centralized list of PS4 games that have Share Play disabled, but the company does note the feature's removal
on its Advanced Warfare support page
. In
our impressions of the gameplay-sharing service last week
, we noted that new indie release
Pix the Cat
also threw back an error when attempting Share Play.
It's hard to know at this point how many developers and publishers will seek to restrict Share Play on their titles going forward. On the one hand, Share Play lets two PS4 owners play a game that's only been purchased by one player, which could be seen as eating into potential sales. On the other hand, playing a game in this manner has its share of annoyances, including a 60-minute time limit on individual sharing sessions. Being able to briefly try out a friend's game over the Internet could be seen as a form of free advertising that may lead to increased "word-of-mouth" sales.
Since the PS4's launch, developers have
been able to block portions of games
from being streamed or shared as video clips using the PS4's share button. Sony also initially
blocked external gameplay capture devices
on the PS4 by implementing HDCP protections, but it
later backtracked on that decision
.